Former Methamphetamine Laboratory Decontamination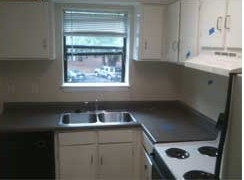 Property Management & Business Brokers
Former Methamphetamine Laboratory Decontamination
Client: Residential apartment management company
Introduction
Highlands Environmental Solutions, Inc. (HES) was retained by the management company for a residential apartment complex (and their insurance provider) to decontaminate a former methamphetamine (meth) laboratory at an apartment in Wilmington, North Carolina. A resident of the complex was arrested for manufacturing meth in an apartment within the complex.
Overview
The North Carolina State Bureau of Investigation removed all precursor chemicals and associated criminal evidence. HES personnel conducted initial testing to assess for the presence of residual impacts due to meth or other chemicals. Following initial testing, all pervious surfaces (including carpeting, drapes, etc.) were removed and transported off-site for proper disposal.
The interior of the apartment (including all walls, ceilings, the HVAC system, and accessible plumbing) was then thoroughly cleaned and ventilated. Confirmation sampling was performed following completion of decontamination activities. These samples were submitted to an independent analytical laboratory for analysis. Confirmation testing confirmed the successful remediation of the apartment.
Conclusion
HES prepared a letter report documenting decontamination activities. This report was submitted to the client for review and submitted to the New Hanover County Health Department (NHCHD).
The HES report was subsequently forwarded to the North Carolina Department of Health and Human Services (NCDHHS) for review. Following their review, the NCDHHS concurred that the apartment was properly decontaminated by HES, which allowed the NHCHD to permit the complex to rent the subject apartment for occupancy. Decontamination and reporting activities performed by HES were completed within two weeks of HES receiving authorization to proceed with this project.