Introduction
Hurricane season in the Atlantic Ocean begins June 1 and ends November 30. Throughout this time period there is a heightened risk of the development of tropical weather due to warm tropical waters. In this blog we will discuss the different categories of tropical weather and how to prepare for the potential impacts of this weather. With that being said it is extremely important to always remember that safety should be the #1 priority. Additionally, if you are expecting tropical weather, it is also incredibly important to listen to and heed local authorities' advice on the severity of the storm, safety precautions, and in some cases evacuations.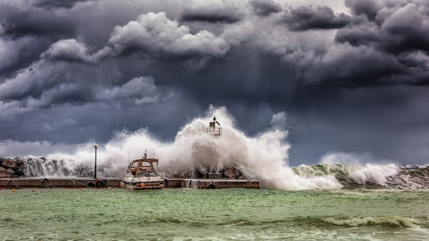 Categories
Tropical weather is generally labeled under four different categories including: tropical depression, tropical storm, hurricane, or post-tropical cyclone. According to various sources, tropical depressions are low pressure systems with thunderstorms and sustained winds of 38 mph or less. A tropical storm generally has similar classifications but with sustained winds of 39 to 73 mph. Although these are not hurricanes, they are still dangerous storms and should not be underestimated.
Within these categories, hurricanes are labeled by five different subcategories which are divided by severity.
Category One: Sustained wind speeds that range from 74 to 95 mph.
Category Two: Sustained wind speeds that range from 96 to 110 mph.
Category Three: Sustained wind speeds that range from 111 to 129 mph.
Category Four: Sustained wind speeds that range from 130 to 156 mph.
Category Five: Sustained wind speeds that exceed 156 mph.
All of these are incredibly dangerous (including tropical storms) and can cause catastrophic damage and even loss of life. In addition to dangerous winds, these storms can also cause flooding and deadly storm surge.
How To Prepare?
The number one way to prepare for tropical weather is to be vigilant and listen to local authorities. This includes listening to local evacuation mandates and taking other safety precautions. Tropical weather can develop and change quickly so even if you are not in the direct impact zone it is important to keep an eye on the weather particularly if tropical weather is headed in your general direction.
Another good way to prepare for tropical weather is to always have some emergency supplies set aside. Some things to have in your emergency kit may include:
Several days' supply of non-perishable food.
Flashlight(s) and replacement batteries.
Any medication you and your family needs.
A first aid kit.
Personal hygiene items.
This kit can also include a vast number of other things so it is important to include all of the things you and your family would need for a few days if an emergency and it is also important to make this emergency kit in advance and keep it updated so that you are prepared if an emergency were to occur.
Conclusion
Hurricanes and other tropical weather can be/ are very dangerous. Be sure to stay vigilant and to keep an eye on the weather and news during hurricane season to ensure that you have enough time to prepare if one of these storms is heading your way! For more information on how we could help you or your company with hurricane recovery efforts, please reach out to info@hesnc.com! For more specific information on how to best prepare containers and storage tanks click the link below to read another one of our blogs! Remember to always be prepared and stay safe this hurricane season!