Introduction
At some point in our lives, it is very likely that we all will have to drive through a thunderstorm or some other type of inclement weather. No matter how many precautions one takes, driving in any type of inclement weather is inherently risky, so it is always better not to drive in these conditions if possible. It will be extremely important for you to take proper precautions especially if you are driving a large vehicle, such as a tractor trailer. With that being said, there are multiple things that one can do to help prepare when they can't avoid driving in inclement weather.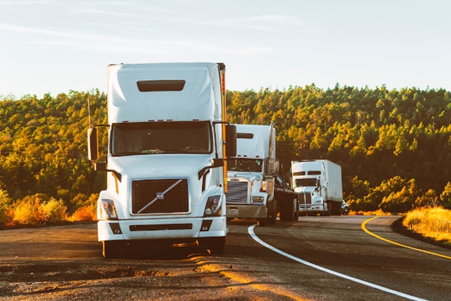 Preform Regular Checks and Maintenance on Your Vehicle
Making sure that your vehicle receives proper maintenance is extremely important. Regularly inspecting, maintaining, and replacing your brakes, tires, and other important car parts could make the split-second difference in whether or not an accident occurs. For a regular car, it is best to:
Check your brake pad/shoes every six months.
Check your oil level weekly, and change your oil approximately every 3,000 miles,
Check your exterior lights (headlights, taillights, brake lights, etc.) weekly.
Check your tires and air pressure weekly.
Perform a general walk around the vehicle each time before you drive.
Performing these regular checks on your vehicle can help ensure that your vehicle is safe and operating properly, and reduce costs associated with operating the vehicle.
Check The Weather Before Leaving
Even if you know you are going to run into inclement weather, it is always best to check the weather before you leave so you know what you are going to be driving into. This can help with route planning for your trip with the weather. Additionally, it may also be helpful to occasionally pull over and check the weather, as weather conditions can unexpectedly change, and it is always helpful to have up to date information.
Create and Keep an Emergency Kit in Your Car
We have all heard the saying "better safe than sorry". Having a basic emergency kit on hand is always helpful because you never know when an emergency is going to occur. Additionally, if you are hauling waste, gasoline, or other materials it may be useful to have a spill kit on hand. These kits usually include materials to help attempt to temporarily respond to and contain a spill of whatever material you may be hauling. Having one of these on hand could help to save thousands of dollars by containing a spill before it does significant damage to the environment and requires extensive remediation.
At the least, everyone should have an emergency kit in their car. This is a good thing to have in general, even if you don't think you are going to be driving during a storm and should include things such as:
Water
Snacks
First aid supplies
A blanket
Fire extinguisher
A flashlight
Basic tools (screwdriver, pliers, etc.)
Other supplies that would be useful to you in the event of an emergency
Other Tips
Below are some other tips/ things to keep in mind when driving in a storm:
If your vision becomes impaired due to rain, be sure to pull over. It is better to stop for a few minutes than risk having an accident.
Absolutely do not drive in standing water. Just a few inches to a foot of water are enough to disable a car or even sweep it away.
Drive at a speed consistent with the weather conditions. Depending on weather conditions, the maximum posted speed limit may be unsafe, and a slower speed is more appropriate.
Increase your following distance.
Get your vehicle repaired quickly in the event it is damaged in the storm.
Conclusion
There are other things that you can do to avoid an accident when driving in inclement weather. As stated, before it is always best to avoid driving through inclement weather if possible. Also, keep in mind that even if you do all of these things there is still a risk of having an accident even if the weather is perfect. So always remember to stay attentive and drive defensively regardless of the road conditions.
*Disclaimer: This is not an endorsement to drive in any type of inclement weather. One should understand that driving anywhere carries some amount of risk no matter what precautions are taken.